The ACLT (African Caribbean Leukaemia Trust) & you discuss via Zoom, hesitations within the Black Community on taking the COVID-19 Vaccines.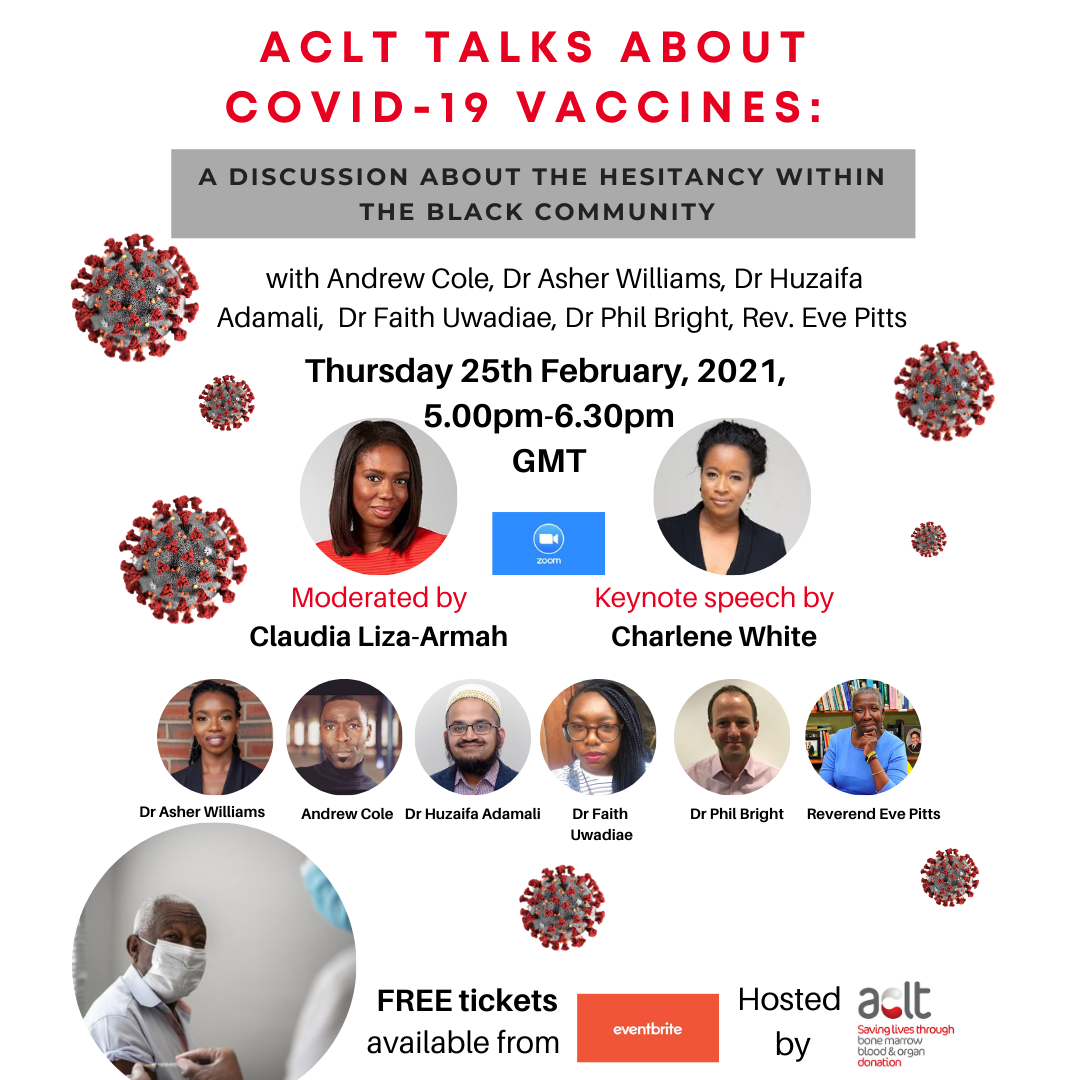 BLACK PEOPLE ARE 4X MORE LIKELY TO DIE FROM COVID-19 THAN THEIR WHITE COUNTERPARTS.
Reading statistics as damming as the one above is not new to our organisation, the ACLT (African Caribbean Leukaemia Trust). Through our work of raising awareness on stem cell, blood and organ donation within the British black community, we are constantly faced with statistics like this, which ultimately result in many lives from our community being needlessly lost.As a leading voice within the black health charity space, we have picked up the baton to ensure we do all what we can to guarantee any decisions made from people within our community re the COVID-19 vaccine, is done with knowledge of the facts surrounding the science behind the vaccine. It's imperative any decision made by you or your family is as a result of factual information provided by public health professionals and not misinformation being circulated within the black British community via WhatsApp and other social media platforms.
It is not our place or anyone else's, to tell you what you should do when it comes to the vaccine, however we feel extremely passionate that when you do make that decision, you ensure it's an informed one.
YOU'RE INVITED
We invite you to attend this FREE live conversation where leading blood cancer charity ACLT, will be providing you with the opportunity to hear from a panel of public health professionals and individuals from the community, to have an open 'live' discussion about the vaccine, debunk the myths, provide the facts on the science behind the vaccine, whilst answering challenging questions posed by people from the community who are against taking the vaccine.
It's time for the 'village' to come together. We look forward to you joining us.
Date Time: Thursday 25th Feb from 5pm to 6.30pm GMT
Hosted by: ACLT (African Caribbean Leukaemia Trust)
Moderated by: 5 News Anchor, Claudia Liza-Armah
Keynote speaker: Host of ITV's Loose Woman and ITV News Anchor, Charlene White
Panel to include:
• Dr Asher Williams – Presidential Postdoctoral Fellow at Cornell University
• Andrew Cole – Former Manchester United professional footballer and Kidney Transplant recipient
• Dr Faith Uwadiae – Immunologist at the Francis Crick Institute
• Dr Phil Bright - Consultant in Clinical Immunology
Q A
During the webinar, please feel free to post your own questions to the panelists using the 'Q&A' button on the screen
Questions can be up-voted by clicking the thumbs up next to the question
As many as possible of these questions will be answered as we go by our Panel Experts
Please post any technical issues to the chat box, and we will try to resolve promptly
Please do not use the chat box to post questions, but stick to the Q&A box only. (Text about 'Q&A' courtesy of Amjid Ali and Kidney Care UK)
Please submit pre-event questions to panel on eventbrite registration or via email to info@aclt.org
The meeting will be recorded. Registration is required for this free event. Further instructions and access to join the webinar will be sent to all registrants upon sign up.
Please note that the ACLT or any panelist/moderator or speaker is NOT being paid or endorsed by the NHS, any governmental department or Pharmaceutical organisation to participate in this webinar.